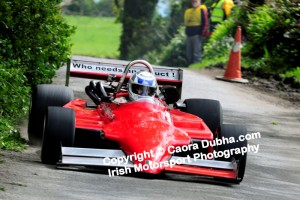 Rounds 5 & 6 of the Connaught Competition Engines Irish Hillclimb and Sprint Championship was hosted by the Motor Enthusiasts Club (MEC) in the Naul Co Dublin.
The event banter was always going to be about the two main racers; current champion Simon McKinley, and Sylvie Mullins; mechanical gremlins sidelined Sylvie in Galway, giving Simon victory on both days. So this was his chance to even the score.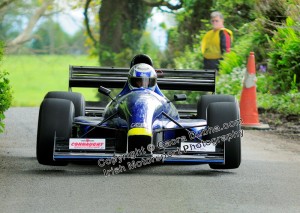 Although the Naul is a shortish Sprint, hidden dangers lurk at almost every twist of the Tarmac.
Battle got underway on Saturday morning at a furious pace, little separated the lads, but on home ground Simon would not be beaten. Sylvie landed hard in his Gould over a bump, upsetting his finely tuned suspension to finish the day 1.27sec behind the champ. Paul O'Connell in his Pilbeam followed home in third spot.
Deirdre Delaney got her first proper competitive run in her new Opel Lotus, Deirdre gave Denis Hogan in the M3, and Ian Quinn in his Minibusa 510 a run for their money on both days.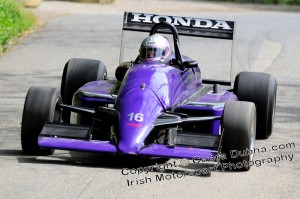 Scary off road excursion of the weekend goes to the Jedi master John Byrne, he removed two wheels off one side of his car in the process. But thankfully John was not hurt. Joe Courtney finished fourth, followed by John Byrne in fifth, Brendan Keane was sixth and Rory Stephens seventh in that insanely quick Radical of his. Neill Anderson was eight, Dermot Nolan ninth, with Eanna Carroll in his Turbo Civic finishing tenth.
Sundays top three was virtually the same, Simon in top spot, Sylvie Mullins second and triple Champion Paul O'Connell in third spot.
Rory Stephens in his Radical improved by two places to finish in fifth on Sunday, his Radical literally explodes out of every corner. The acceleration of the Radical SR3 is simply astonishing to watch.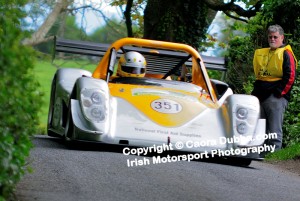 Fourth place went to Joe Courtney in his OMS Hornet, Neill Anderson was sixth, Brendan Keane was seventh, Dermot Nolan eight, Russell Stanworth who shared the Nolan car was ninth. And Eanna Carroll in his Civic was tenth.
The weekend also featured some very rare and expensive historic machinery, and by god did those lads drive the socks off them. Mark Brennan was out in a  very rare Alvis, Detlef Heyer was out in his very rare BMW 328, this car makes the most glorious sound when driven with great gusto. Kieran White was out in his TRS, and Ken Mc Avoy had his Austin seven Special.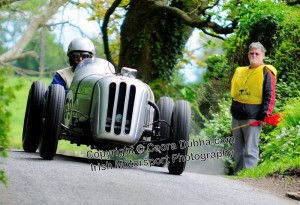 Simon McKinley now has a four point lead over Sylvie Mullins, next stop for Simon is the Hillclimb in France, well he has to keep his French fans happy too.
We are just about midway in the Championship and the best has yet to come.
1              Simon McKinley 58
2              Sylvie Mullins     54
3              Paul O'Connell   46
4              Joe Courtney     36
5              John C. Byrne    33
A Big Thanks to all the Marshals & Crews for an excellent weekend of Motorsport
Results courtesy Motorsport Ireland & Irish Hillclimb.com.