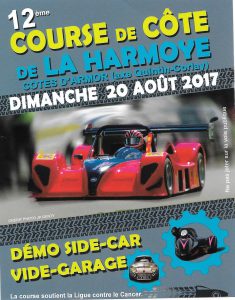 An increasing number of  Irish competitors are considering tackling an event in France…Perhaps you've seen our photo's and heard the stories of the mad crack and the wonderful weekends of racing. Yes the stories are all true and I have pictures to prove it!
Believe it our not when you add up the cost of  doing a weekend Hillclimb here and the cost of a ferry and everything else there is little difference. Excellent saving can be made by booking the ferry well in advance of your departure and camping is the norm in the paddocks in France.
Just a few weeks away is the Course de Cote de La Harmoye, it takes place on August 21st and its just about an hour-and-a-half from the port of Roscoff. Its an excellent event and a challenging course the starts just outside the village. Saturday is the traditional welcome and features excellent food and music in the village and you will receive a very warm welcome from the local people.
Check out the gallery and have a look at previous events and you'll see its worth a look.